Blue World City is Pakistan's First Purpose built tourist city. The fast-paced development work in blue world city can be observed and new areas being developed on daily basis. GM Marketing brings you regular updates of development work in Blue World City for the month of April 2021.
The following video shows the development of Gate No. 2 & 3 is going on and near to completion with all its towers up and standing. Gate No. 2 of Blue world city connects Access Avenue to Hollywood block & Gate No. 3 connects blue world city to Beverly Gardens Phase 1 & 2, another marvelous upcoming project of Blue World City.
---
World's Tallest Horse Mascots
The Development of Horse Mascots is at full swing and as you can see in this video, the 2nd Mascot structure is almost completely assembled and ready to be installed. In the next video we will show you the installation process of World Record Largest Horse Mascots in Blue World City.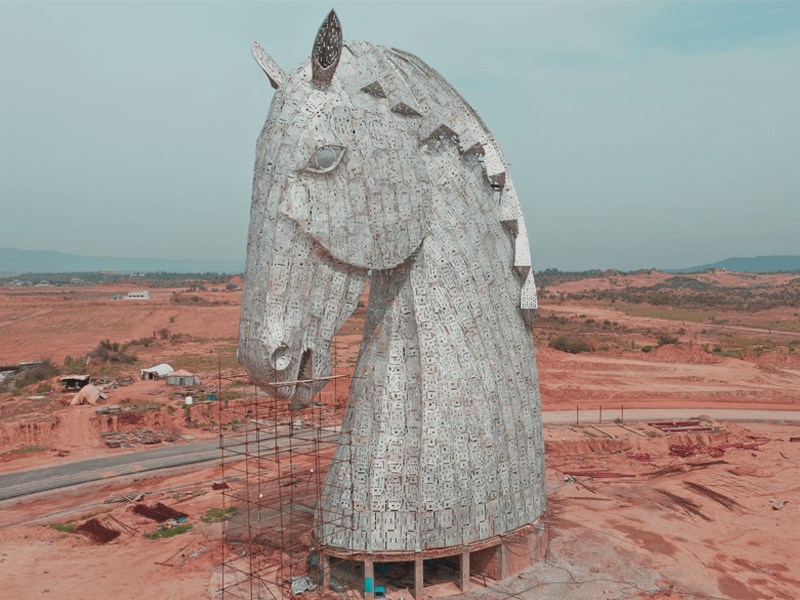 ---
Streets & Road Network
Development of Roads, The Norther Avenue & main roads in general block can be seen are at a rapid pace. Road network of blue world city is amazing, wide roads with no main road less than 208 Ft wide. The streets are 40 Ft wide with Underground electricity and sewerage system.
We also have this amazing video that shows the development work being done in the streets with details about street sizes & other amenities in Blue World City's General Block.
---
Overhead & Underground Water Tanks
Overhead and underground water tanks can be seen in this video are almost near to completion, these 2 water tanks will provide enough water resources for whole of the general block.
---
New Land Development – Drone View
In this video you can see a new piece o land being developed and it is going to be attached with the existing development in General block. Blue world City's faced paced development is something that differentiate the project from other projects. It is a mega housing project without a doubt.
New land is regularly being purchased at blue world city and being added to what is already a mega housing scheme. It is a unique housing scheme is Rawalpindi with beautiful tourist attractions from across the globe.
There has been talks about total area of blue world city, that how big the blue world city is, well with this pace as they are purchasing new lands blue world city will surely beat the top housing societies in Pakistan. Stay tuned with us with more exciting content.
---
Blue World City is for sure the fastest growing housing society in Pakistan. For Booking and details contact +923111444779 | +923001110082