Silver City Islamabad
Silver City is a mixed cultural project which brings people of different ethnic values across the country together. Take in the majestic view from your elegant home. Allow all the refreshing scenes to relate with you when you go for the morning walk with your close ones. Scheme that completes you! It's a giant project of 4-Years with 48 monthly installments in CITY OF PEACE. This reputable project has come to the forefront claiming that it is here to provide poor people with basic facilities as well as with elite class life style at approachable prices. 
Location:
Silver city knows the targeted Audience! The premium scheme is located on Girja Road, just ten minutes away from the new Islamabad airport and twelve kilometers away from Quaid-e-Azam Hospital on Peshawar Road. Furthermore, Ring Road Rawalpindi is connected directly to it and has other posh housing schemes (Up Country Enclosure, Cbr Phase 2, etc.) within reachable distance.
Payment Plan: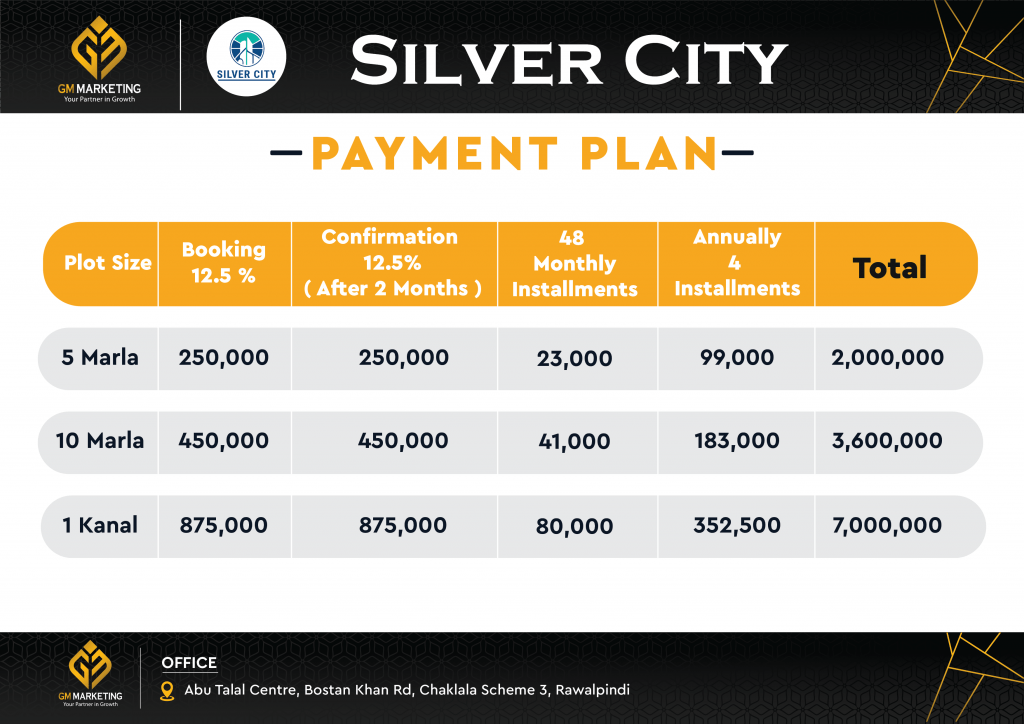 Procedure:
 Procedure for booking the plot is very simple. You just have to pay 12.5% of actual price to book your 5 Marla i.e. 250k, 10 Marla i.e. 450k or 1 Kanal i.e. 875k plot. All monthly installment should be deposited before 5th of every month. And if you want to book plot at your favorite place then you will have to pay some extra charges. Some special discounts are also available. You can enjoy 10% discount on full payment and 5% discount on half payment. After completing your installments you can have the possession of your plot.
Amenities: 
Smart Commercials: Smart Commercials will be filled with smart features including free Wi-Fi system, HVAC management, air quality monitoring, lighting management, occupancy sensors, smart parking, smart elevators, smart warehouses and more.
Eco friendly environment: To avoid all kinds of destruction and losses due to climate change and poor living conditions. 
Silver city not only gives the basic facilities like electricity, water, gas and security but also have features like Family adventure parks, Jamia mosque, shuttle services, healthcare facilities and commercial Area etc. All these facilities are available in an Eco friendly environment with good prices.
Why you should choose Silver City?
There are many pros of choosing silver city but some of them are:
You can have your favorite location.

Money can be paid in installments.

All basic and elite facilities are available.

Location of the plot is very important. It's only 4KM away from Thalian interchange and 8KM away from Islamabad airport.

Looking for a society with perfect security and surveillance system.

Living in silver city will give you a feeling of living in foreign society.

Quality of roads and infrastructure are much better than other schemes.