Introduction:
One of the remarkable housing projects that is attracting the masses is yet again Blue World City. Located close to the twin cities this housing society is accessible to the citizens of both Islamabad and Rawalpindi. Another interesting thing about this project is that it comes under Chinese Authorities and is therefore crucial for Pak-China joint housing cooperation. The development responsibility of this project is given to Chinese. Once done, it would be an affordable housing scheme for those looking for profitable investments.
To give this housing project more strength, here is to some of the most important aspects providing an overall overview.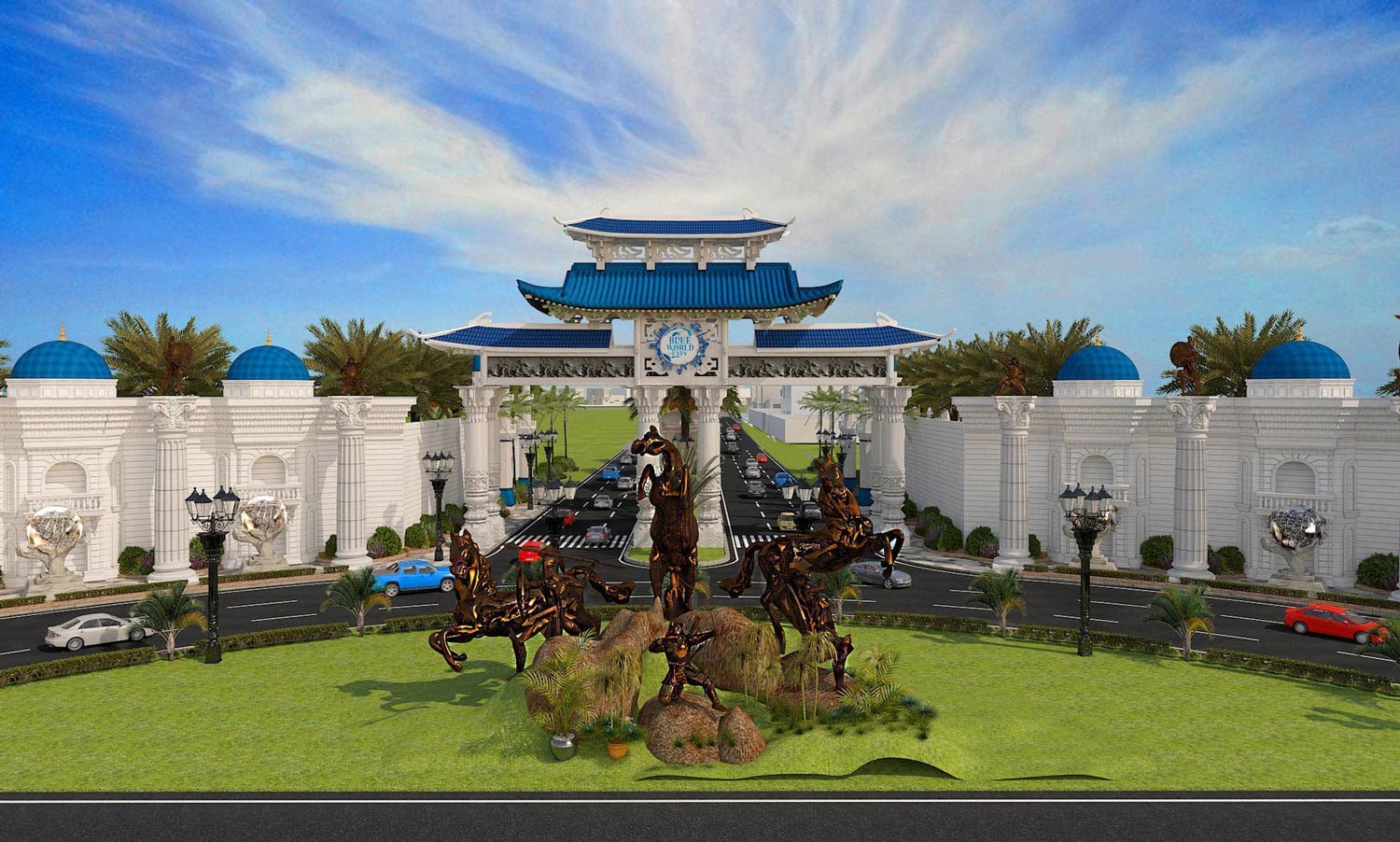 Project Owners:
The owner of famous Blue Group of Companies holds this project as well in collaboration with Chinese group known as Shan Jian Municipal Engineering Company. Both the developers have signed an M.O.U for the construction and development of Blue World City. 
Information about Blue Group of Companies (BGC):
After initiating the business back in 1989, Blue Group of Companies has launched its name in construction and development area around the country. having been the renowned company of Lahore, now its business has spread in almost every city. Undoubtedly, Trust and reliability lies behind this success.
The trustworthy behavior attracts the attention of targeted audience for the longer run. Since almost half a decade, Blue Group of Companies is giving its client best business in real estate, development and construction, commercial and housing projects plus the support services add on to the list. Moreover, when it comes to commercial standing, BGC also works on retail side comprising of almost 300 employees thus creating a diverse system of construction and development.
Structure of BGC:
Having a varied set of business projects, Blue Group of Companies have a list of associated businesses. Few of them are listed below:
Blue Bricks
Blue Properties
Blue Palms
Blue Technologies
WPZ
Blue Media
Mart Blue
Brands Square
Projects of BGC done in the past:
Describing the past success models presented by Blue Group of companies are numerous. To name the few, we have PIA cooperative housing society, Blue sapphire project, Blue technology on commercial project list and one in Lahore named as Centre Park. The mentioned project is the recent development under the banner of BGC.
Location of Blue World City:
Lying at the heart of main Chakri Road, Blue World City connects the M2 which lies at Lahore-Islamabad Interchange. This housing society would be a bridge between the twin cities and very near to New Islamabad International Airport. Such tranquility of Blue World City will definitely add on to your choice of having a dream house at dream location.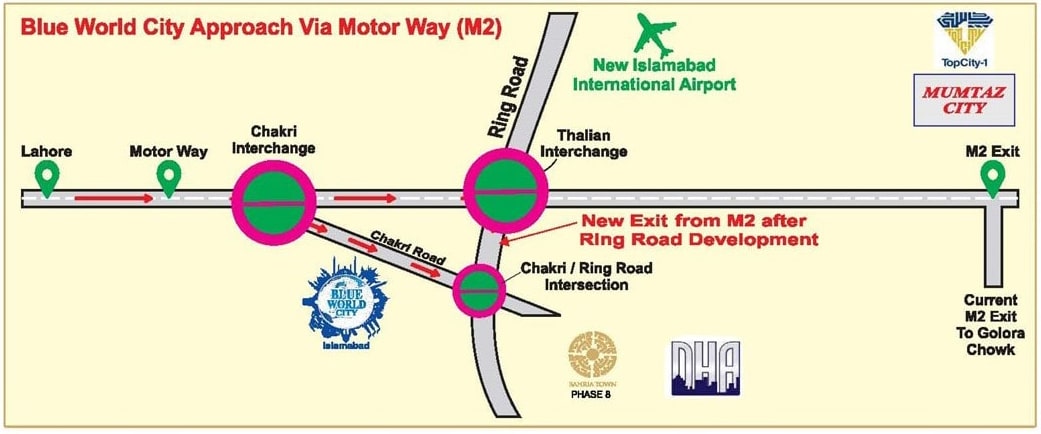 Upcoming Projects of Blue World City:
Other than this Blue World City project, BGC also have few more ventures lined up. At a neighboring location, other housing schemes such as Mumtaz City, Star Argo farms, Top city and University town are also included.
Blue World City Map:
As far as location of Blue World City is concerned, it lies at the main Chakri interchange- considered as the entrance of Rawalpindi-Islamabad. Attached below is the map of mentioned housing project giving a definite hunch about the exact location.
Connecting Points of Blue World City:
The peace-filled housing society has multiple access points. With the ideal location of lying at M2, Blue World City can be reached out via Lahore-Islamabad interchange both in case whether you are coming from Islamabad or Lahore side. Other than this, there is a Ring Road as well which can be another access point once the project will get done. Ring Road will reduce the distance plus time for the people coming from Rwp and Islamabad. Also, it would have shorter distance if you wish to join Bahria Town, DHA Rawalpindi or Giga Mall.
Project Plan of Blue World City:
Given below is the master plan of Blue World City which is made after keeping all the details of the project into consideration.
Moza:
There is also one village associated with the Blue City which is called as Sehal. This Moza is such a peaceful place to visit.
Road Size:
A huge network of roads connecting all the corners of Blue City is such a vast project. The main road known as the famous boulevard would be almost 120 feet. Other main roads would be of 80 feet and the streets size would be no less than 40 feet.
Blue World City NOC and Planning Permission:
NOC has been issued by Rawalpindi Development Authority under the letter no. RDA/MP , TF/F-PHS-PTR-10/148. Through this, permission on the land of 427 Canal has been granted to Blue World City to initiate the construction process. Another application for 5 thousand Canal is in process and may be soon accepted. This comes in phase one of the project followed by other phases.
Detailed Project Plan:
As explained above, in phase one, 5000 Canal has been acquired and ready to initiate the construction process. The total phases of the project is four and every phase has various blocks and plots available.
Given below is the detail of housing project divided by sizes:
5,8,10 Marla and 1 Canal and 2 Canal residential plots.
4 and 8 Canal of Farmhouses
5 and 8 Marla of Commercial Plots
Also, the society is offering installment plans of 3 and 4 year with the booking starting only from 10% of payment.
Blue World City Payment Plan:
Below attached is the payment plan for the purchase in Blue World City:
For the overseas Pakistani, Blue Group offers a remarkable package. As the company completely understands the dilemma of staying away from the home country that's why there is a special offer for those expatriates who wants to invest in their own country. keeping into consideration all the demands and taste of aforementioned audience, BGC has both residential and commercial plots available for overseas with all the lavish facilities. This special block is on first come and first serve basis having an inexpensive rate.
Location of Overseas Block in Blue World City:
The overseas block is separate yet connected. Accessible to both the sides of main boulevard and near to main Chakri road, people can enjoy the shorter distance. The location of respective block is such that it is linked directly with the main gate of the society and also have a reduced distance from the Ring road. Our expatriates can join M2 to take the route of Islamabad as well as Lahore. Hence, an ideal location attracting our beloved Overseas Pakistanis.
Distinctive Feature of Overseas Block in Blue World City:
As explained earlier, the Blue City Project keeps an equal care for overseas community thus making a separate lavish block for their ease. Few of the features of this block includes its international standards which would match the standards of expatriate group. The style of apartments and houses are in accordance with their choices and demands. Other features are as follows:
Payment Plan of Overseas Block in Blue World City:
In current scenario, BGC has in list residential plots for overseas Pakistanis whose sizes may vary accordingly. One category includes 7, 10 and 14 Marla plots and the second category includes 1 and 2 Canal plots. In case of overseas, booking starts from down payment of 20 percent and the installments should be submitted during 48 months. Payment plan for overseas Pakistanis are as follows:
Blue World City Hills Farmhouse:
Living close to nature is always healthy. With the fast-growing world, one needs a break badly from a tiring and a hectic life. Likewise, everyone wants a place to enjoy the beauty of nature while living close to peace and tranquility. For this, people wish to have their vacations spend on farmhouses somewhere at countryside. So, this place is for you. Blue World City offers the scenic beauty with all facilities at their blue hills country farmhouses.
Location of Blue Hills FarmHouses:
Blue hills farmhouses are at such ideal location that everyone dream for. Close to nature and looking at the freshwater streams is a place your farmhouse should be at. And here comes the location of Blue Country Farmhouse. As it is close to Chakri interchange, meanwhile you can observe the beautiful greenery around you thus having a complete soothing and fresh environment.
Why you need to book a farm House in Blue World City?
As the hazardous impacts of environmental changes are destroying the nature, everyone is going towards a safe side to at least breath in fresh air once in a week or month. Such serene environment is now a blessing which people are looking for desperately. Therefore, you are getting a chance to have this at your own place. Blue Hills Farmhouse is a right path in this scenario where you can book your farmhouse at affordable price and on installment basis as well. So, don't wait for mesmerizing views to be at your hand.
FarmHouses Payment plan options in Blue World City:
You can have both 4 and 8 Canals of Farmhouse according to your choice. The payment plan is as follows:
Awami Complex at Blue City:
Divided into various categories, one of them is Awami Complex. It is another marvelous part of Blue housing project as it consists of dual units with each one of them having all the available facilities. The duplex and independent house are available at affordable price after ensuring your comfort level.
Location of Awami Residential Complex:
Lying parallel to Blue World City, Awami Residential complex has a direct access to main Chakri road. The location of the residential complex is a demanding one because of its shorter distance from New Islamabad Airport. The ideal position of this housing scheme carries the bundle of facilities at an arm's length away.
Details of Project:
The most important feature which needs to be discussed is the distribution of floors in this housing project. The residential complex building will have multiple floor considerably five floors with one ground floor. The basement will also be included in the project plan. few faces of the villas will be on exterior side exposing the lush green scenic view.
The duplex unit will have apartments of varying sizes and their structure will match the new housing styles. Moreover, for commercial activities, single and dual units will also be there.
Awami Complex Residential Apartment:
The size of awami complex residential apartment is categorized as follows:
 One bed family apartment of 375 sq. feet.
One bed studio apartment of 550 sq. feet.
Two beds family apartment of 830 sq. feet
 Duplex Villas details at Awami Complex:
Duplex units are further divides into three categories as follows:
First floor- 675 sq. ft.
Second floor- 675 sq. ft.
Ground floor- 675 sq. ft.
Services Offered by Awami Complex:
Awami Residential complex gives you a wide range of options to choose from. As mentioned above, Blue housing project offers one bed apartment, two bed apartments accompanied by studio apartment. All these would be followed by the basic facilities as given to other residents of Blue World City.
Information regarding Awami Villas:
Awami Villas at affordable price are the point of attraction for huge segment of society. Lying at the most peaceful location close to M2 interchange, the services and facilities offered to the residents of Awami Villas are no less than anything.
Worried about payment and installment plan? Have a look below to the overall easy plan.
This investment will never fail to disappoint you in long run. All the luxuries of life will be at your doorstep in Awami Villas.
Salient Features of Blue World City:
Every initiating housing project holds a huge number of features. And Blue World City in collaboration with Chinese Engineering firm has advanced features to present. As previously explained, it is an affordable housing scheme, it can give you numerous commercial advantages as well. This society would be featured on international standards for both Pakistani and overseas clients. It would include all the necessities plus the educational and health facilities near your place. Want to know more about this amazing project? Here is to your ease, few more salient features of Blue World City are as under:
Water, gas & electricity:
Availability of water, gas, electricity is a basic necessity for life. While planning to build a house or initiating any commercial activity, these three things are essential. Hence, Blue World City gives you all these facilities in much efficient manner. Both for the residents and the investors, there would be uninterrupted supply of gas, water and electricity. So, now manage your stress and buckle up for more features of this peaceful society.
Replica of Blue Mosque at Turkey:
The grand Jamia mosque of Blue World City will be on the pattern pf Blue Mosque in Turkey. The style would be of Turkish mosque that was constructed by ottoman empire back in 1609. This would be an interesting feature to attract the visitors to look this amazing piece of art and history. The rich Islamic culture would be featured through the replica of this historical blue mosque of Turkey.
Commercial hubs, Schools & Colleges:
BGC never ignores the value of education facilities and that's why it is getting to be an educational hub. It would include schools and colleges whose level should match the Cambridge education. Resident will have a sense of satisfaction from educational point of view.
The biggest water theme park in Pakistan:
Water park is always an attracting feature and specifically for kids. Blue World City has therefore included a water theme park in the plan which would have fun rides in water, swimming pools for children and water slides for kids.
Gated Community:
Blue World housing society will be a bounded society in a sense that it will have gates and guards. After a certain time at night, the gates would be closed, and no stranger would be allowed to enter without proper recognition. Also face recognition and ID card check would be made at the gates.
 24/7 Security:
By keeping into consideration, the security point of view, CCTV cameras have been installed in the housing society. This would ensure safety while keeping in check any kind of criminal activity. CCTV camera would be live 24/7, giving a sense of secure environment.
 Sector and Jamia mosques:
Offering prayers five times a day is a part of our faith. Looking at this, Blue World City has definitely included a Jamia mosque in society. Other than this, each block and phase have its sector mosque as well. The Jamia mosque will be on lavishing style and may have the capacity to accommodate a large number of people. For Jumma Prayer and Eid prayers, special arrangements would be made.
A chain of roads:
Explained above, there would be a vast network of roads here in blue world city. These long roads will connect every single corner of society. Few roads will be of 40 feet and others will be of 80 feet. The main boulevard road is as wide as 120 feet and connects the chain of roads. People can easily walk around the society given the smooth roads.
Public Transport:
From one corner of society to another, there would be a network of public transport within the society. This would make it easy for the residents to travel to anywhere in the domain of society and also helpful for outside visitors.
Electric Power plant:
To ensure the uninterrupted power supply, an electric power plant is being installed in the society. When the electric power plant will be at such close distance, undoubtedly there will be no load shedding at all.
Underground Electricity facilities:
To save the residents of Blue city form electricity shortage and losses, an underground supply of electricity is being implemented in Blue World City. This upgraded system will help to have a secure lifestyle in case of any environmental effects such as rain, storms etc.
Sports and cultural complex:
Sports are the much-needed thing in one's life. Healthy life and sports activity go hand in hand. Furthermore, a cultural complex and sports ground will be added in Blue City project for your ease. Sewerage Treatment Plant: To take care of your hygiene and cleanliness, blue world city has a plan to implant a proper sewerage treatment plan for the disposal of waste material.
Water filtration plant:
Clean drinking water is a basic need of a common man. By keeping into consideration, blue world city has issued a plan to install a filtration plant for clean water availability. Also, the supply of this clean water will be provided to the society's residents. Hence, a better and healthy life waiting for you ahead.
Oxygen Park and lake:
Tired of everyday routine, everyone wants to experience fresh air and greenery. For this, BGC has included a park and a lake in the proximity of society. This would be named as oxygen park and add on to your physical and mental health.
3D I-max cinema:
Want to watch your favorite movie? Here is your choice getting fulfilled. Being the resident of Blue World City, you would not need to go anywhere out for watching movie in 3-D cinema because a 3-D cinema is in the list of construction plan to housing society. people.
Adventure Club:
With so many other features include in the project list, adventure club is the one as well. This club will be helpful in connecting the society's residents by organizing different community activities and functions. The society will have an adventure club to bring the community together and make social. connections in society.
Safari Zoo:
BGC group promotes and facilities the family life as always. For recreational activities, a Safari zoo has also been included in the list. This Zoo will be safe and secure and must have various animals in it to attract its visitors. Accompanied by park, this Zoo will have many species of animals and birds being imported from different countries.
Water pools and spa clubs:
When we talk about luxuries life, swimming pools and clubs comes first in the mind. To keep good care of our residents' choices and standards, water pool and spa clubs have been included in the housing plan. this rejoicing and refreshing activity must be an attractive feature for those planning to buy their dream house. Police station: BGC group is already working to include police station in the vicinity of housing society so to help its people not to panic in case of any criminal and unlawful activity.
40-Bed Hospital:
In the wake of current health conditions in our country, the aim of Blue World city is to provide all the basic health facilities to its residents. For this, construction of hospital comprising of 40 beds is lined up in the housing plan. so, in case of any emergency, people don't need to rush anywhere around and can seek help form the society's hospital.
Blue World City Pak-China Friendly City:
China-world 2nd largest economy is not at all lags in investment race. Here, Blue Group pf Companies has made an agreement with Chinese real estate company named as Shan Jian Engineering Company. This M.O.U is a landmark in blue world city project as it would be a joint venture including Chinese business owners and investors. Henceforth, this Memorandum of understanding between the two brotherly countries will further make the relation friendly and strengthening. To make this argument more supportive, let us have few more points in respective scenario.
 joint skills of Chinese and Pakistanis:This joint venture between Chinese and Pakistani company will help to foster the combined effort while making a construction plan for the housing society. In such a way, it would focus on living standards of both the countries so that it will be according to the international choices. Secondly, the society will include commercial area for the better economic activity thus strengthening the Pak-China trade and investment relations.
Pak-China Investment:
As already described the nature of this Pak-China joint venture, Blue World City is not a project of one single country but a combined effort of two neighboring countries. This Chinese investment will add on to the country's foreign direct investment which in return means we are helping Pakistan's economy to boost up.
CPEC Route Proximity:
The game changer China Pakistan Economic Corridor i.e. CPEC is helpful for Pakistan's overall economy. Blue World City housing project will be benefited as the CPEC route comes in the way of Blue City Islamabad. The CPEC route which will connect GB to Gwadar lies at the proximity of this housing scheme.
Chinese Architecture and Development:
As it is a joint effort s Chinese will help equally while drafting the housing project. Chinese technology no doubt is ahead of our technological skills so it would help Blue city to use those advanced technological skills in construction process thereby giving a lavish lifestyle to people.
Accommodation for Chinese Residents:
As the CPEC is lined up ahead, many of Chinese workers are already working on various projects in the country and some Chinese are the owners of technological companies in Pakistan. So, this project of BGC will surely a ray of light for Chinese community as the design of this housing scheme will be according to their standards and daily needs. However, in the making of this project, a numerous number of Chinese workers will be involved and to give them safe and secure accommodation will be our first priority. Putting in a nutshell this project will bring close people of both the countries and help to make the Pak-China friendship stronger.
Why Invest in Blue World City?
This investment will never disappoint you and that's a guarantee. In such circumstances where reliable housing schemes are hard to find, we are giving you a complete trustworthy environment. Blue World city is not only for elite capture but also for those 70 percent of middleclass Pakistanis who wish to enjoy the same benefits and facilities. And one reason for this is its low price, easily affordable and can help you in longer run. Still confused? Here are few aspects which can help you to make a better choice.
 Most Affordable & Convenient:
Now a days, everyone wishes to have a dream house at the outskirts of twin cities. But affordability becomes a hurdle at the way. Similarly, few housing schemes here in Islamabad are so expensive. To eradicate all these problems, Blue World City offers an affordable installment plan to make your dream comes true.
Easy Installment plan:
Installments are offered by numerous projects, but it depends on their investment plan that how it relates to your ease. BGC group always strive to make ease for its customers by giving them 3- and 4-year plans for their valuable investment.
Modern Amenities:
All those lavish facilities that adds to your lifestyle is necessary item to include in the list while selecting the location for your dream house. At this, Blue World City is successful. We are equipped with every necessity such as electricity, gas, water in addition to parks, hospital. Shopping plazas and cinemas.
Peaceful and tranquil Environment:
As its location is such that close to nature, it provides a peaceful environment to its residents. Especially for those who wish to have a farmhouse at countryside, this project is ideal for them to invest. Away from the pollution and fast city life, Blue housing society is an amazing place to live in.
Infinite Commercial opportunities:
An ideal project for both residential and commercial plots, it adds on when it comes to business side. It provides a huge set of business opportunities for the growth of your commercial work. The shopping centers included in the project can be a beneficial investment.
Maximum Return on Invest:
As it is the initial phase of Blue housing project so it is heavy on investment that can double up your payment in just a matter of years. This is an ideal timing to gain maximum out of your investment. Let's Grab the opportunity then!Pros and Cons associated with Blue world city:Very sincerely, here is to both the pros and cons of this project. You can get an idea about it in the table attached below:


Documentation Requirement for booking:

Convinced enough? Here are the booking details for your dream house to get a real face. Visit GM marketing office with following documents with you:
 NIC- two copies
Passport size pictures- two copies
NIC of next of kin- two copies
Overseas NIC (for Overseas Pakistanis only)
Time Required for the Possession of Plots in Blue World City:
Once you register for the Blue World City, you would be given the possession after 3 years. Unlike the other housing projects which grant immediate possession, Blue World City will transfer your property after the development work has been completed as it is now in its initiating phase. Given the external circumstances such as NOC or several other natural factors, the time frame may extend.